NEW TO THE SERIES?
Here are 3 must-watch episodes to get you started...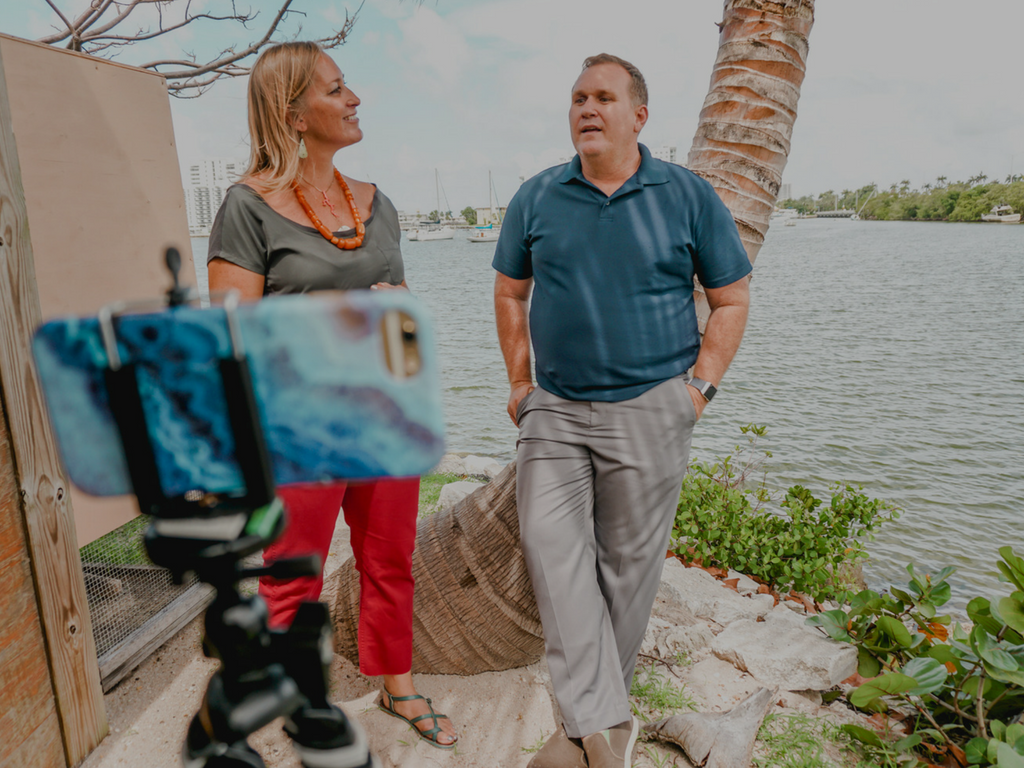 DON'T MISS AN EPISODE,
SUBSCRIBE NOW
Each week we share unfiltered, intimate, and inspiring conversations with Wavemakers in blue spaces around the world. Our guests are diverse yet connected by the change they are creating in their communities for a better, bluer planet.
When you tune in and ask questions LIVE on Facebook,
you become a Wavemaker too.

Our mission is to create a ripple effect that moves you to
effect change in your lives and communities.
Jeneen masih

Video ep. 25
Jeneen Masih: Reaching New Heights with Transformation Coaching and Managing a Travel Lifestyle
surrounded by Sargassum Seaweed
Video ep. 24
Sargassum Seaweed: What is it, Why is There So Much, How We Can Repurpose It

Flooded by Florida's king tides
Video ep. 23
Climate Change 101, Causes of Florida's King Tides, Tips to Reduce Your Carbon Footrprint

dr. JENNIE TROCCHIO

Livestream ep. 22
Dr. Jennie Trocchio: Axen Club, the Spectrums of Autism, Shaking Up Traditional Autism Therapy
Dr. Jim Merritt


Livestream ep. 21
Dr. Jim Merritt: The Jersey Shore and Experiential Learning One Clam at a Time

lizzi larbalestier

Livestream ep. 20
Lizzi Larbalestier: Blue Health, Our Mind-Heart-Gut Connection, The Power of Blue Spaces
dr. scott ramsey

Livestream ep. 19
Dr. Scott Ramsey: Alaska, River Time, and Connecting to Nature

Bryan Galvin


Livestream ep. 18
Bryan Galvin: Plastic Symptoms, Beach Cleanups, and Extreme Endurance Sports
Morgan Knowles


Livestream ep. 17
Morgan Knowles: Studies in Marine Debris, and Saving the Planet "One Clam at a Time"
Victoria Burgess

Livestream ep. 16
Victoria Burgess: World Record Endurance, Nutrition, and Dreaming Big
MATT BECK

Livestream ep. 15
Matt Beck: Float Therapy, Blue Mind, and Finding Yourself.


caiti pomerance

Livestream ep. 12
Caiti Pomerance: The Policy, Education, and Science Behind Single-Use Plastics in Miami.

SHELLY Tygielski
Livestream ep. 09
Shelly Tygielski: The Science Behind Mindfulness, Mindfulness vs Meditation, and Making Mindfulness Fun.
EVA COLES & MICHAEL ALVAREZ
Livestream ep. 06
Eva & Michael: Fashion for a Cause, Creating Jobs, Purifying Water, and Saving Lives in Haiti.
RENDA WRITER

Livestream ep. 03
Renda Writer: The Power of Words, Artivism, Spreading World Peace.
HUGETTE MONTESINOS
Livestream ep. 14
Hugette Montesinos: Impactful Influence, Knowing Your Triggers, and Following a Deeper Calling.
Anastasia Mikhalochkina
Livestream ep. 11
Caiti Pomerance: Plastic Pollution and Closing the Loop on Waste.

JOE LAND
Livestream ep. 08
Joe Land: Waterway Cleanups, Bracelets for a Cause.

CODY BLISS

Livestream ep. 05
Cody Bliss: Transformational Travel, Packing Smart, and Connecting to Nature in this Era of Climate Change.
SEAN RUSSELL

Livestream ep. 02
Sean Russell: Life as a Vegan, Building a Community Based on Plants.
CHRISTOPHER BOYKIN
Livestream ep. 13
Christopher Boykin: Preserving Biodiversity, Rehabilitating Wildlife, and Supporting Our Blue Backyard.
DEBRA CASE

Livestream ep. 10
Debra Case: Plastics in Hospitality, Ocean Friendly Restaurants, Enforcing the Ban on Plastics and Styrofoam.
SHARA TETER
Livestream ep. 07
Shara Teter: Handling Difficult Life Changes, Diving with Sharks, Stepping Through Your Fear.
Andrew Martineau
Livestream ep. 04
Andrew Martineau: Becoming a Cultural Curator, Making a City Your Own.

JENE KAPELA

Livestream ep. 01
Jene Kapela: Building Travel into Your Lifestyle, Traveling Purposely via Givecations.